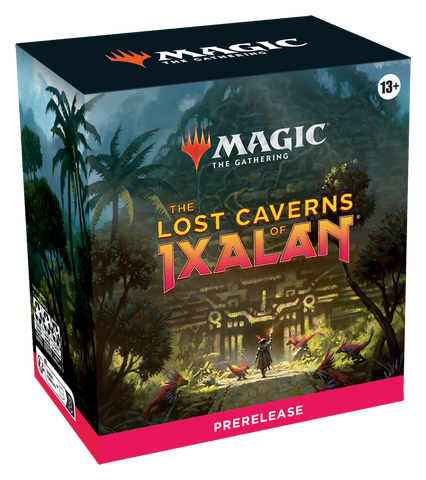 Lost Caverns of Ixalan Pre-Release Kit - Preorder
Description:
A year after the events of March of the Machine, we revisit Ixalan, the plane packed with pirates and dinosaurs. Things have changed since the disappearance of the Immortal Sun.
Once again, there is a scramble as the groups race toward the center of Ixalan in search of a new resource: cosmium. Once they get past the caves, they find that Ixalan is a hollow world with Ixalan's Core in the middle and lit by Chimil, its own sun. An ancient civilization, ancestors of the Sun Empire, uses the magic of Chimil to grow in power. Packed full of pirates, dinosaurs, vampires, and merfolk .. The Lost Caverns of Ixalan has something for everyone!


Contents:
1 Lost Caverns of Ixalan Prerelease Kit
2 Lost Caverns of Ixalan Set Boosters
Available for pick-up / shipping beginning November 10, 2023


Disclaimer: Due to unforeseen circumstances, shipping may be impacted. We will do everything we can to get you your orders ASAP. We are currently also offering both curbside pick up and in-store shopping Monday through Saturday from 11am to 9pm and Sunday from 11am to 7pm; even if you live close by, shipping is available to you. ALL SALES ARE FINAL. Thank you for your patience, understanding, and THANK YOU for supporting your LGS!
---
We Also Recommend